Foreword
HY-1070 is a multifunctional digital microscope individually designed, developed and manufactured by Shenzhen Hayear Electronics Co., Ltd.
Different from many inferior product on the market, each part of our product is of high quality. It realizes Full HD, high object distance and multifunction.
With help of the Hayear measuring software, it can easily meet many different requirements in many fields, such as industrial overhaul and teaching demonstration.
You will get an excellent user experience not only the appearance design of the product but also the multifunction when you receive it.
Contact us: info@hayear.com
Features:
Image Sensor : 16 Megapixel SONY CMOS 1/2.3 HD Sensor

Video Output : 4K/2K/1080P Full HD (via HDMI) ;1080P (via USB)
Video Format : MP4
Magnification: Standard Magnification 150X
Photo Resolution : 16M 4608x3456, 14M 4320x3240,12M 4032x3024, Min 640x480
Photo Format : JPEG
Focus Range : 5cm to 15cm
Frame Rate : 4K 24@fps;1080P 60@fps; 720P 120@fps; Max 240f/s (VGA)
Video Output : HDMI/USB
Microphone : Support
Storage : TF card storage, max 64G
PC Support : Support Windows XP/7/8/10 system, including PC measuring software
WiFi : Microscope support WIFI connection (the connection range is about 15 meters)

Stand Size :17*11*20cm(LxWxH)
Screen Size :5.1 inch
Package Size : 28*22*17cm
Weight: 1.9Kg
Shipping Weight : 3.0 kg

NOTED!!!
TF card storage is only for HDMI output. USB output will be storaged in PC.
Package including:
1 x Microscope Camera
1 x 150X Lens
1 x Table Stand
1 x Power Supply
1 x USB Line
1 x HDMI Line
1 x Remote Control
1 x User Manual
connection and output
Besides of the output to the microscope screen itself, HY-1070 still has 3 kinds output as HDMI, USB and

TF card storage. The below is an aerial view of the different ports of the main device, we will expand it in the later chapters.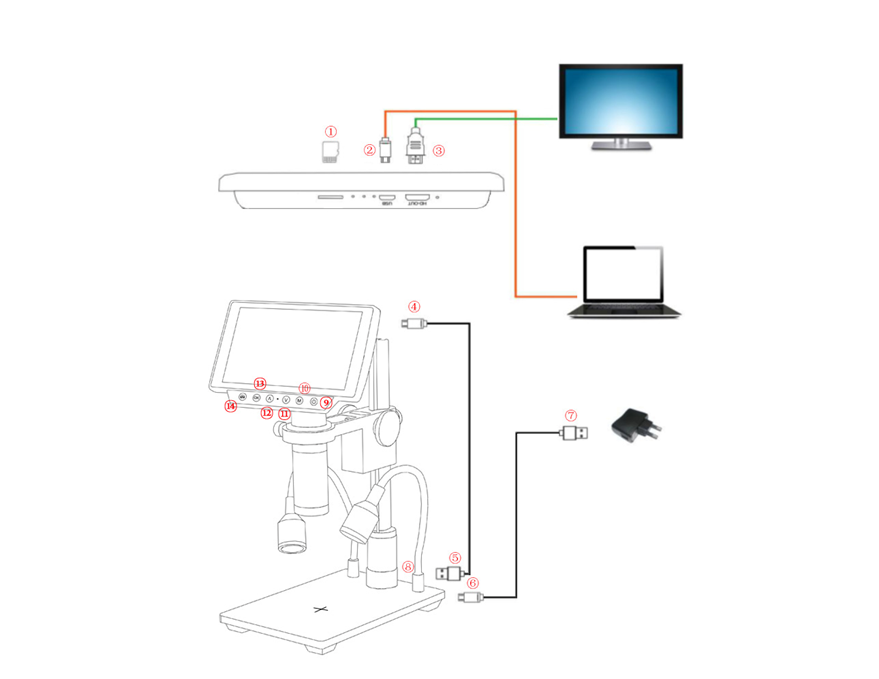 1: TF card storage ( to storage photo or video)

2: USB output (output to the PC via USB line)

3: HDMI output (output to the HDMI monitor via HDMI line)

4: Microscope power supply

5: USB power supply for microscope

6: Base double lamp power supply

7: USB DC in( provide power to microscope and LED light)

8: LED light adjustment (control the brightness of the light)

9: turn on/off button

10: menu button

11:button down

12:button up
13:confirm button
14:mode switch(capture/video/view)
HDMI output
First, make sure the connected monitor is hd monitor, otherwise the resolution can not reach 1080P
Second, power on the microscope and connect it to the hd monitor, make sure there is power on when

using since there is no built-in battery.
Third, turn on the microscope, put the observation on the platform and adjust the working distance,

the video signal will switch when you connect the microscope to other device, therefore the screen itself

can not work under the HDMI output.
USB output

S-EYE is an application for imaging a dynamic image processing , it has the following characteristics:
1. Support a variety of cameras, can switch at any time to use.
2. using GPU rendering for image previewing, support for live image display of high-resolution and high frame rates.
3. Support dynamic image measurement function.
4. The software interface is easy to operate.
PC Support : Support Windows XP/7/8/10 system, including PC measuring software
WIFI connect setting
First use
Step1: download APP
You can download it as follows:
IOS users search for "WiFi Camera" in the APP Store to download
Android users search for "WiFi Camera" in application stores to download
First step: open the WIFI function through remote control, WIFI function can be only open by remote

control, then it will display the account and password, the account is: HY-1070d9eea30d21c0

password:12345678
Second step: open the WIFI on the mobile phone, you can check the WIFI network HY-1070 then click to

connect, it will show a tick when connect success, open the WiFi Action Camera APP to connect Camera.